Surprise, Arizona Tree Nursery
A tree isn't just a tree. Each variety has different characteristics that determine how well the tree will fit into your environment in Surprise, Arizona.
Whether you need to redirect whipping winds, shield against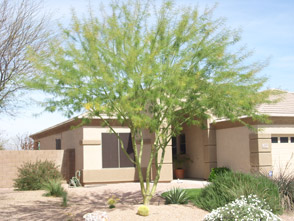 the burning hot sun, or erect a barrier between your backyard and the curious neighbors, trees are a natural solution. Trees even create structure for homes, cover our floors, provide us with furniture and support the backyard swing while providing kindling for our fireplaces and fire pits. Trees also nourish us with the production of fruits, nuts and syrups.
No one has more experience with growing trees in the Surprise, Arizona desert than Whitfill Nursery.
There's more to tree selection than the color of the leaves or the rate at which it grows. As a grower-direct nursery for over 60 years in the Valley, Whitfill Nursery can recommend a variety of trees from our family tree farm that thrive in the desert heat. Choose among the following tree types: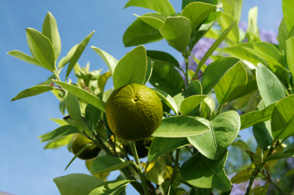 Desert Trees
– desert trees can survive the desert's harsh sun and persistent drought conditions. Choose  a Palo Verde, Sisso, Acacia, Rosewood, Ash, Ficus, or a Mesquite among many others and with the guidance of an experienced Whitfill nurseryman and your desert trees will flourish in the sizzling Surprise, Arizona sun.
Shade Trees
– with a shade tree standing between you and the Arizona sun, you don't have to wait for sunset to enjoy the outdoors. They make the outdoors more inviting due to the large canopy offered by trees such as the Oak, Chinese Elm, or a variety of Maple trees.
Citrus Trees
– Florida and California aren't the only places where citrus trees provide a delicious bounty of oranges, lemons, limes and other citrus. Among the most popular fruit trees in warmer climates, citrus trees add an abundance of luscious green color to your Surprise, Arizona landscape and provide juicy, delicious fruit for your recipes. Decide among Whitfill Nursery's selection of Lemon, Valencia Orange, Tangelo, Lime, and Grapefruit trees.
Flowering Trees
– flowers are not just for plants. You can achieve a variety of color with the incorporation of flowering trees that offer blooms in every color of the rainbow and then some. Enjoy the lush and colorful blooms, flowering trees like Jacaranda, Oleander, Myrtle, Palo Verde, and Hong Kong Orchid trees.
Palm Trees
– establish a taste of paradise on your outdoor property with palm trees that come in numerous varieties including Mediterranean Fan, Mexican Fan, Date, Pygmy Date, and Queen Palm among others.
Due to their large presence in any landscape, trees can offer a great impact. However, trees alone will make your garden seem one-dimensional in Surprise, Arizona.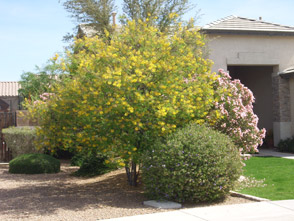 With plants and shrubs to complement your trees, you are giving your outdoor setting the complexity that signifies a professional landscape.
Shrubs
– Fill the space where your trees stop and your ground cover begins with the numerous woody branches, rich green foliage and colorful blooms of garden shrubs. Whitfill Nursery can dress up your grounds with a variety of shrubs that are commonly found in the desert climate including Hibiscus, Dwarf Oleander, Bougainvillea, Sage, and Lantana.
Tropical Plants
– adopt the serenity and beauty of a backyard paradise with tropical plants that provide vivid color and unique shapes that remind you of an island vacation spot. Get all the plant specimens for an authentic island retreat from Whitfill Nursery, including Banana trees, Succulents, and Aloha Lilies among others.
Discover all the possibilities that await you at your local Whitfill Nursery location. To build the outdoor environment of your dreams, we have the trees and plants to help you create and maintain it.
Whitfill Nursery is "where we still do the digging" in Surprise, Arizona. Learn more from our About Us page or use the contact form below if you have any questions.